Teaching Your Horse To Drive-Metta Baxter Clinic
April 1 @ 8:00 am

-

April 2 @ 4:30 pm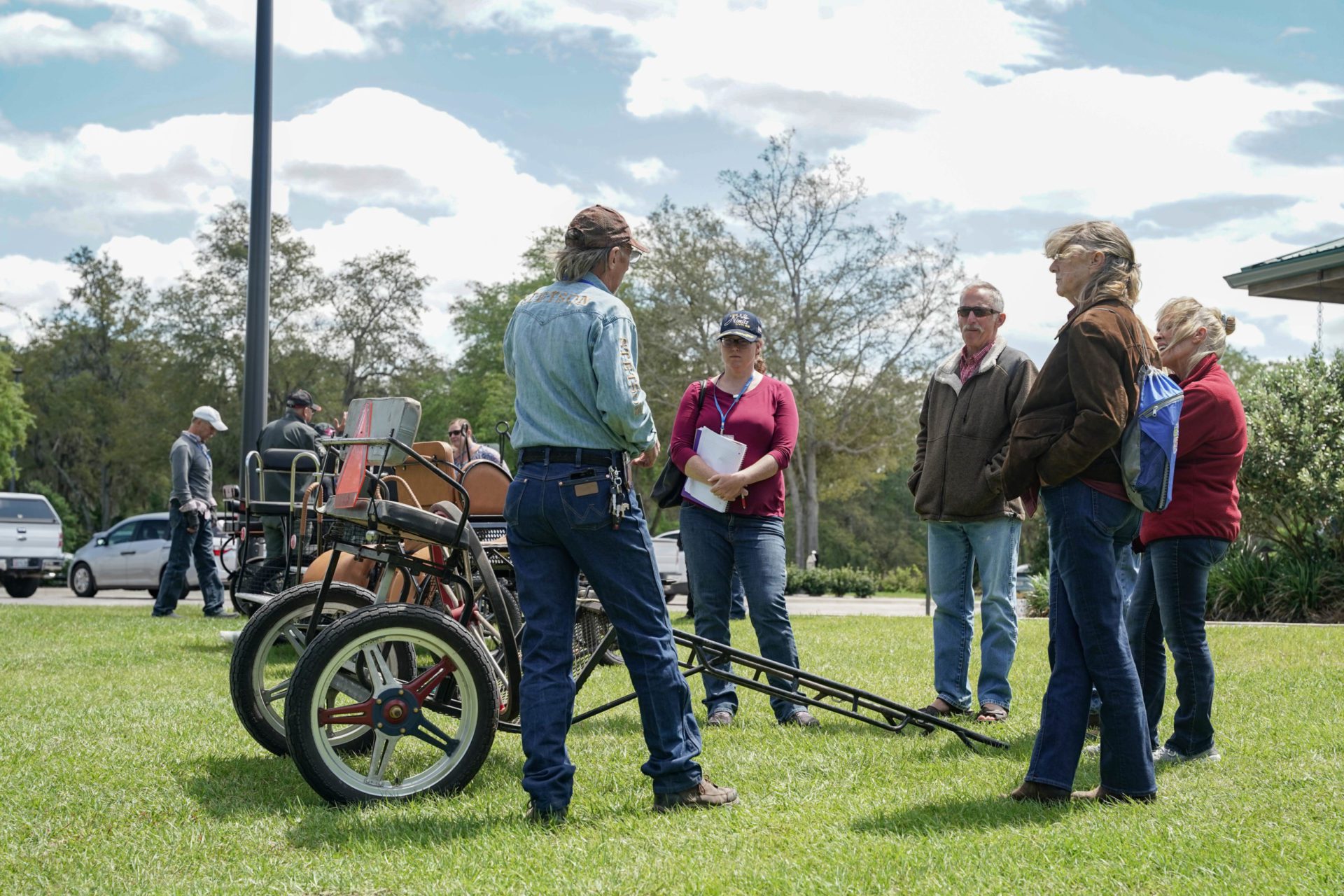 Teaching Your Horse To Drive
Have you ever thought of driving your horse but don't know where to start? The Florida Whips Carriage Club is once again offering a two-day course to start you on your way. This popular course is named in honor of the originator, Metta Baxter who started the class over 2 decades ago. The course is an intense two-day event aimed at equestrians interested in learning the basics of harnessing, driving, carriages, and safety. Anyone interested in driving from beginners to drivers who want to expand their knowledge can benefit from this class and are encouraged to attend. The class will be held at the beautiful Black Prong Equestrian Village in Bronson, FL. Continental breakfast and lunch are included in your registration.
Day 1
The course begins with lectures on the harness styles, types of carriages, and the purpose of each to help you make educated decisions when shopping for your first equipment. In the afternoon, the class will be divided into small groups to allow students to have hands-on experiences with harness assembly, bits commonly used for driving that participants can handle and discuss, rein boarding which simulates driving a horse while handling a carriage whip, and carriage maintenance. There will be a carriage display and talk on selection and our infamous "People driving People" where you will have the opportunity to "drive" each other and learn the importance of contact with the bit. Lastly, a driving trainer will provide a live demonstration on how to start your horse on this driving journey beginning with long-lining.
Day 2
The day starts with a demonstration of driven dressage and cones, both a phase of combined driving events. Following that, students will get hands-on experience learning how to safely hitch a horse or pony to a carriage with coaching from experienced Florida Whips members and their equines. Following lunch, students will actually have the opportunity to drive the horses and ponies they harnessed in the morning. Information and registration for The Metta Baxter Introduction to Carriage Driving Clinic can be found on the Florida Whips website at www.flawhips.org under the tab Whips events. Questions? Contact Beth Rieselman at pungoer@aol.com or by phone at 607-343-7019. We look forward to welcoming you to the world of carriage driving!